Okay, first of all, I like listing down my favorite stuff. So this week, I'm listing down 5 of my favorite animes'. SO LET'S GET STARTED!!!!!
School Live                                                                                                                                                        School Live is my FAVORITE anime of all time. School Live follows the eyes of Yuki Takeya, a cheerful schoolgirl who, along with her friends Kurumi Ebisuzawa, Yūri Wakasa, and Miki Naoki, is a member of the Megurigaoka Private High School's School Living Club. As Yuki seeks out fun school activities every day while living at school, the other girls work to keep her safe, because, in reality, they are the sole survivors of their school after a zombie apocalypse that overruns the city. The ending is very heartbreaking, but I love the series altogether.
 2.   Mirai Nikki (Future Diary)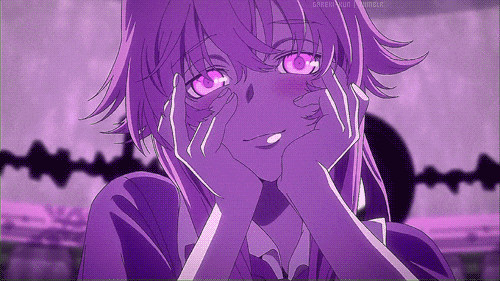 Mirai Nikki (or future diary) is the first yandere based anime I've watched. Mirai Nikki is really hard to explain, ( so if you want to see the description,  you would have to look it up *Sorry*). I promise it is an excellent anime, but It contains a lot of murder, so if you're sensitive towards that topic, I suggest you don't watch it.
3. Danganropa                                                                                                                                                     
 I just learned about this anime last week and IMMEDIATELY fell in love with it. Danganropa is a series based on a murder mystery video game. This anime is about a boy named Makoto Naegi who, along with fourteen other students, is imprisoned inside the  Hope's Peak Academy, where a crazy, remote-controlled bear named Monokuma offers them only one way to escape: murder another student and get away with it.
4. School Days                                                                                                                                            

School days was an anime recommended to me by a friend. It's about the life of Makoto Ito, who likes, Kotonoha Katsura, a soft-spoken schoolmate who rides the train with him to school. When he has to change seats in Homeroom, he becomes friends with Sekai Saionji, a talkative girl who takes a particular interest in his crush and decided to give Makoto advice on how to ask out Kotonoha. Soon, Sekai becomes jealous of the new couple and realizes that she developed feelings for Makoto herself. School days has a lot of plot twists and left me extremely surprised at the end.
5. Dragon Ball Z                                                                                                                                            
First of all, Dragon Ball Z is my CHILDHOOD!!! Since my youngest uncle is four years younger than me, whenever my sister and I went over to my grandparent's house (when we were kids), he would always be either playing or watching Dragon Ball Z and I started to grow fond of it. Dragon Ball Z is about the adventures of Goku who, along with the Z Warriors, defends the Earth against evil.
I have A LOT more anime that I really love, but these are the 5 that came to mind. None of the pictures belong to me so I give some credit to the people who made them. So goodbye for now!